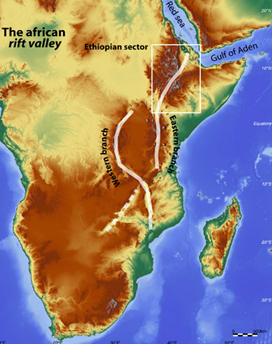 click to enlarge
The Ethiopian Rift Valley
The African rift valley is one of the most fascinating natural wonders, known for its unique biodiversity and for being considered -for the important paleoanthropologic discoveries- the "cradle of mankind", i.e. the place where our species has evolved and diversified in the last millions of years. Characterized by a system of linear valleys extending for thousands of kilometers, the rift valley is a huge fracture on the surface of our planet that progressively widens with time, tearing the eastern portion of the African continent apart. It represents a geological wonder where volcanism, earthquakes and fracturing of the Earth's crust are the surface expressions of the enormous forces that shape our planet. These web pages are dedicated to the analysis of the Ethiopian sector of the African rift valley, an ideal natural laboratory to analyze the evolution and dynamics of continental extension and the rupture of lithospheric plates.
NEWS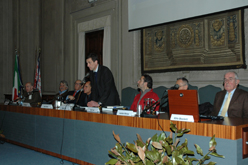 New photos added
I've just been inteviewed for a scientific documentary on the Olduvai Gorge made by the Scuola di Paleoantropologia of the University of Perugia
New paper of interest: History of the development of the East African Rift System: A series of interpreted maps through time by Duncan Macgregor, Journal of African Earth Sciences, DOI: 10.1016/j.jafrearsci.2014.09.016
New paper of interest: Magmatism and deformation during continental breakup by Derek Keir, Astronomy and Geophysics, 55 (5): 5.18-5.22
We will contribute to the volume "Landscapes and Landforms of Ethiopia" (Springer) with the paper "Rift-related morphology of the Afar Depression"
New paper of interest: Flip-flop detachment tectonics at nascent passive margins in SE Afar by Geoffroy et al., Journal of the Geological Society, 171, 689-694